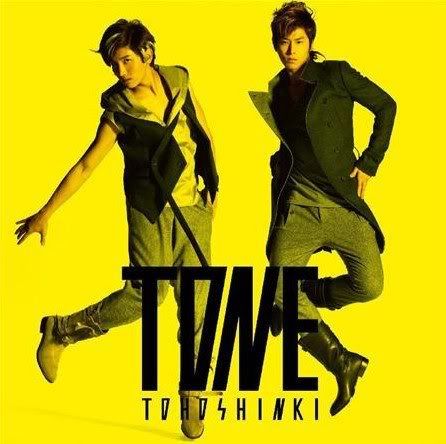 I really wanna know why Yunho looks like an Angry Bird doing the Irish jig on the yellow cover.
All of TONE's covers are incredibly uninspired. They're the covers you look at when you see them at the CD store (do these…still exist?) and you go, "…Okay." And then you shrug before you put it back down and head on over to judge other CDs by their more awesome covers.
The covers actually match perfectly with the content of the album — both bland and possibly a regression in style and execution compared to past works.
Tohoshinki's past albums have always been a great mix of everything. There were the uptempo ballads, the downtempo ballads (I call them the 'weepies'), the dance tracks, the tea-time melodies, the jazzy lounge tracks, the randomly intriguing pop songs that have a very distinct J-pop feel to them. They were all really unique in their own way and I would be incredibly happy as a listener because I got a little of everything. Of course there were the one or two throwaway weepies that I just did not care for at all, but they were the minority and they were usually on the second disc of the album or something (and this distinction between material from the first disc and the second disc is a big one).