Current K-pop #8: U-Kiss, DBSK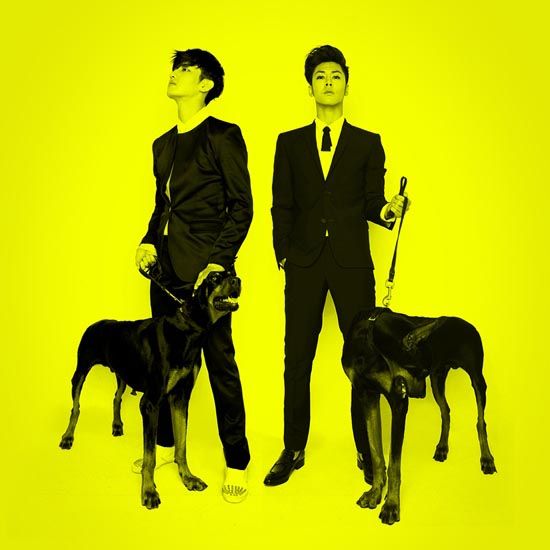 The first one of these I ever did was on MBLAQ and DBSK (when "Keep Your Head Down" came out), and I opened with, "One I love, one I love to hate (or just kind of…hate)." Still perfectly apt two years later.
U-Kiss' "Stop Girl"
"Stop Girl" is great. It's so great I think it might be one of the best boy band pop releases from K-pop this year*. The song itself is pretty straight forward, but it's sexy and not overbearing, when in K-pop, being sexy usually coincides with being overbearing.
I love the choreography: it's so clean and slick, my favorite kind. The formations work perfectly for the six members. The choreography does exactly what I love about song + dance in K-pop: it helps the song glide, and it gives the viewer a visual translation of how the music sounds. I love when choreography does that.
If I do have a complaint about the song, it's that I can hear the limits of U-Kiss' vocals as a group. I think a song like this lends itself to really good harmonization when done right, but the group isn't strong enough to do it properly. The last line before the music cuts off, "Stop girl in the name of love," could've been such a great closer if they held 'love' for even two beats longer and Kevin and Hoon's adlibs building up to it weren't so weak. Kevin sings way more than I thought him capable of (he pretty much does the chorus by himself during the lives), and Soohyun sings way less than I expected, which surprises me.
U-Kiss is a group I think K-pop fans collectively recognize the merits of, but for some reason the group just can't do much to rope in new fans or gain footing in the biz, unlike groups like Beast, MBLAQ, Infinite, or even B1A4 as of late. Everyone pretty much agrees that U-Kiss promotes solid music (maybe barring "Shut Up," worst song in the universe), are incredibly non-polarizing as far as groups go, but somehow they're just lacking that magic that can launch them into the upper tiers of K-popdom.
* The release is so good I thought upon listening to it that, "Ah, maybe U-Kiss can finally win at something." Then I realized they have stupid idiots for management because they're wasting a perfectly perfect promotion cycle by going up against DBSK. Grumble.
DBSK's "Catch Me"
I didn't have a visceral reaction to "Catch Me" like I did with "Keep Your Head Down." I think the song itself is fine; I even like the dubstep. But my hate is exclusively for the choreography. I actually have been loving what SM's been forced to do in terms of accommodating choreography for two people, and I thought they did really well in "Maximum" and "Keep Your Head Down," but "Catch Me" is just not happening. They've been a duo for two years now, and they've never had to go out of their way to illustrate so explicitly that they're a duo, until now with this choreography. We get it. Mirrors, reflections, twins. Show, not tell, people.
Everyone's movements are so big and over-the-top. I think all of SM's artists are better legwork dancers than they are upper body movers, and it's jarring to watch Yunho and Changmin shake and wave around so much. There is also some really whack lyrical movement shit going on in the dancing that feels completely out of HoMin's elements. They are both not graceful enough of dancers to pull off the intro to that song and it's embarrassing watching them attempt it. I really tried to get a better sense of this choreography by watching their dance video so I can be fairer to their efforts, but I had to constantly break for a palette cleanser. So, I ended up watching the dance practice for "Stop Girl" like six times or something to write this post.
Changmin has a really low penchant for Stupid, so I wonder how it was for him to learn this dance. Yunho always dances like his dance alone will save the fucking world, and without his movement, the rest of humankind shall perish. I really want HoMin to get some of that light, clean dancing that I referred to earlier because I think Yunho can be great with fast-paced, restrained movement ("Mirotic," "Wrong Number"). Yunho overdances very easily and he needs reigned in choreography to keep him in check.
As for the album, I'm generally apathetic to it like I am with DBSK's Korean albums. Some songs will grow on me over time, but as a whole, it's whatever. I do really like "인생은 빛났다 (Viva)," it's probably my favorite track off the album. I love the teasing call-and-response style and how relaxed their speak/rap is. Again, not being overbearing is important at this time in DBSK's careers. I find the rest of the album to be pretty over-produced, which is rare since I think DBSK's producers usually do a good job of letting DBSK's voices speak for themselves.
All in all . . . Sigh, I can't believe I have to watch "Catch Me" for another two years.