Drama quick cap #1
I realize I'm really bad about wrapping up opinion-caps for dramas I watch. I always lose steam halfway into it, so I'm just going to wrap up a drama I never got around to doing, and briefly give an overview of dramas I'm currently watching but haven't felt the urge to fully dedicate posts to.
THE MOON THAT EMBRACES THE SUN
I've exhausted all possible words for this drama. Just listen to Lisa and I rage about it for 40+ minutes here.
FASHION KING
DEAR LORD WHAT IS WRONG WITH THIS DRAMA. I'm so frustrated with it. I watched 10 episodes because I grit my teeth and kept hoping that if I just stick it out for two more episodes the writers will magically right all the wrong they've done.
You know how there's an invisible lower threshold of quality that's ingratiated into the TV landscape that one must never dip under as TV gets better and better? Yeah, the Fashion King peeps definitely created this drama in a vacuum because they're misusing and abusing the shit out of K-drama stereotypes that I didn't know it possible for a 2012 drama to do. Even some of the most blah dramas that you know are fringe and mediocre at best don't commit the same sins that Fashion King has.
This drama is so awful and irredeemably sexist that I judge Yoo Ah-in, Shin Se-kyung and Lee Je-hoon for taking it on. It's so illogical and badly written that I don't see how any of these extremely capable actors could have, for a second, believed that it was going to turn out okay.
ROOFTOP PRINCE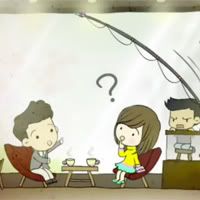 Hilarious. So funny. Didn't think I would like it this much, but I do, barring some really ill-conceived villains who deserve to be punched in the face repeatedly. Yoochun's finally settled into a role in which I don't hate him all throughout the story's run. He's really better off playing the haughty arrogant guy who's actually just really lame and really unintentionally funny because I forgot how GREAT Yoochun's funny faces are, which are all basically variations of this, LOL.
I was really worried about chemistry between Yoochun and Ha Ji-min because they can both be hit-or-miss depending on their co-stars, but I'm so glad to say that they have really cute chemistry together. And what's even better is that the Joseon Power Rangers all have chemistry with each other and Han Ji-min has chemistry with them as well, which is all I really need. I can block out Se-na and Tae-moo and the rest of those feisty pests.
THE KING 2 HEARTS
Worst name ever. Seriously, that invisible lower threshold of quality? Applies to drama titles as well, folks.
But besides that, I've hit a wall with this drama. As in, I was really excited about it when it first started, and then it dipped into a romantic territory that I didn't want it to dip into (so early on), so I got frustrated and then I just haven't been in the mood to continue it yet. I'm about four episodes behind and the mood to watch the drama isn't coming, so it will just be on hold for the time being until inspiration strikes again.