Best of Dramas 2011, part two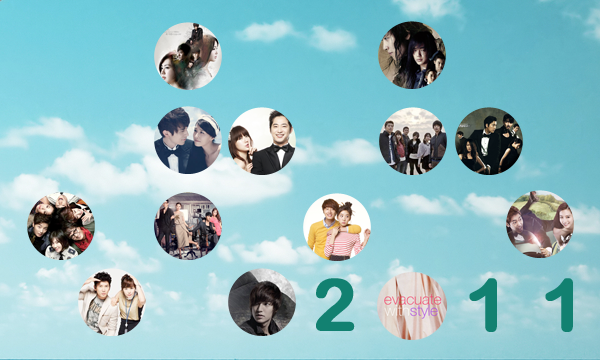 Wrapping up my Best of 2011 series is the second part of my picks for Best Drama of 2011.
(Read part one, my picks for best actor/actress here and here, and best of K-pop here.)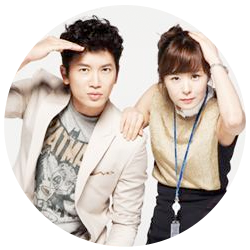 PROTECT THE BOSS
Protect the Boss is my pick for comedy of the year. The premise is not as fresh as the other contender for comedy of the year (Best Love), but it turned a simple premise into something much bigger and nuanced than just a secretary and her hoop-de-da work journey with her boss. The roles were very much reversed in a way that felt organic, and stayed true to course all throughout the story. This pairing was one that I found myself very much enjoying because Ji Sung played his broccoli-head of a character to perfection, and Choi Kang-hee was the perfect kind of feisty that I love in a female lead. Together they were on of the cutest couples, despite the fact that I had qualms about their relationship in the beginning.
This needs be stated for the record just once more, but one of the best things about this drama is that everybody had a great relationship with the other characters. Yes, there were rivals for rivals sake, but I like that the writers said "fuck it" to the standard they-must-fight-each-other-to-the-death trope in order for pairings to get together. Isn't that just nicer to watch?! I know that competition and conflict between characters is crucial, but I also feel that it's gotten to a point in K-dramas where it's like no relationship or person is worth attaining if there weren't competition with another party for it first.
Protect the Boss gets my vote for being best romantic-comedy of the year for being such a hippy and liberal in a sea of overdone, conservative, and cliched romantic comedy K-dramas.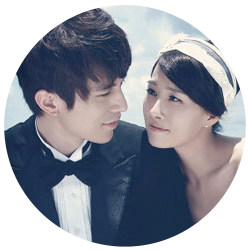 SCENT OF A WOMAN
Scent of a Woman had a lot going on for it. So much, in fact, that I was ready to crown it Drama of the Year by episode six. Unfortunately, that was all premature because as great as some scenes in that drama were (all the tangoing, all the Lee Dong-wook shower scenes, all of Poop Seok's scenes), there wasn't enough of it to sustain us as we neared the conflict — a conflict that we have all already seen a thousand times before in other variations. We were unnecessarily bogged down by all the noble antics, the misunderstandings, the intentional deceit that really turned this drama from a fresh one to a mopey one, all in one go.
This drama hit a roadblock that a lot of dramas in its genre do, and that's what to do with a character that's diagnosed with terminal disease and where to go from this fact. This isn't 2000 Autumn's Tale, so we can't use tropes from that decade, but a lot of K-dramas still don't know really well what to do with pending and looming death without reducing it to the most tragic and devastating story ever. I liked that the story ended on a non-death, but it felt like a last minute deux ex machina because despite the fact that Kim Sun-ah's character learned to keep living to the fullest instead of waiting her death out, her living is not unlike a lukewarm consolatory prize for making it through the story.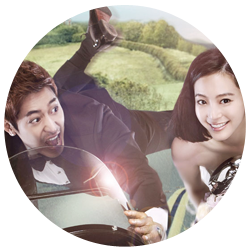 SPY MYUNG-WOL
This was supposed to amazing: Eric was gonna act like a crazy 4D Hallyu star! Han Ye-seul was gonna kick his ass and bring him to his senses! This was supposed to be so bad that it was good, but instead what it actually was a plate of cow dung served on a platter of mealworms.
It started off like many rom-coms, with a fresh-mouthed female lead and a whiny-but-good-meaning male lead who was due for a beating. But then……..everyone got crazy and the rest of this drama unfolded rapidly in a very scary way. The real life drama regarding Han Ye-seul didn't help matters because it then just highlighted how poorly she was treated on set, and the story itself became a very meta reminder of the shitty environment that Han had to persist in.
Eric's character also progressed to become one of the biggest douches I've had the displeasure of watching all year and while I was supposed to be rooting for the main couple with fervor, all of that fell by the wayside as I struggled to finish the drama out of loyalty to Han Ye-seul.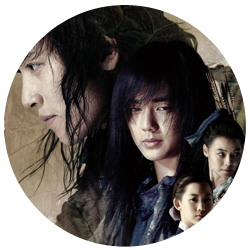 WARRIOR BAEK DONG-SOO
I watched Warrior Baek Dong-soo for all the wrong reasons (to see Yoo Seung-ho in action, to catch Yoo Seung-ho sword-fighting, to see Yoo Seung-ho play a badass), which translated to hoping that the dynamic of the story and the rest of the cast were just as intense. Story-wise, this drama was like every other sageuk, which means that it started with a great kid version of our main cast, transitioned nicely into an adult story, and then quickly became about old people conspiring and speaking slowly. (#fml)
I don't really mind all of that because I, as I've said before, am a very patient viewer despite being a harsh critic. So then for sageuks I really do just watch for the acting and the character development and relationships. It's really too bad because I found that most of the characters were miscast and the acting was not where I wanted it to be. Choi Min-soo and Jun Kwang-ryul were awesome oldies and did great with their roles, but everyone else around them was so lacking, and half of the main leads were not able to carry the drama. Ji Chang-wook did not impress me on any level and his love interest Shin Hyun-bin had me stabbing at the screen. Ji wasn't as much as a dead weight as Shin was, but dear lord if half of the younger cast is so unimpressive and I'm primarily watching for the younger cast, what the hell am I supposed to do?
Yoo was what I expected him to be, and his character is easily the most compelling out of everybody's. He's the kind of villain that is obviously a villain on the surface, but goes so much beyond being a stock bad guy and I give kudos to both the younger actor Park Gun-tae and Yoo Seung-ho for giving Yeo Woon so much depth. Ji played Baek Dong-soo as the nice guy to the T, but I barely ever rooted for him. Yoon Ji-min's Ji took up so much screen time and I found her absolutely dreadful to watch when her story could have very easily been elevated to another level had a more expressive actress taken the role. (All throughout, I imagined Han Go-eun would have been perfect for this role. Han is strikingly beautiful and beautiful in a way that would've been a good fit for this role, and she has an air of mystery about her that would actually make her romance with Choi Min-soo and Jung Kywang-ryul's characters convincing.)
All in all, this drama turned out to be extremely popular — much thanks to its genre, I suppose — and wasn't a bad project for Ji Chang-wook or Yoo Seung-ho to participate in. But the cast and characters really tripped me and I think an overall more skilled set of actors and actresses would've done wonders.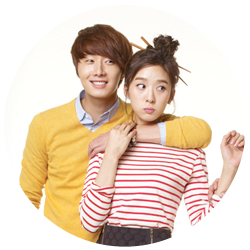 FLOWER BOY RAMYUN SHOP
This drama too had a premise that I was completely anticipating. Okay so it's about ramyun and there's much ado about ramyun, but Jung Il-woo with Lee Chung-ah in a drama about food sounded like a great idea. It was even better when I started watching and realized it's about a high school student's wrong-wrong-wrong attraction to a teacher. Great drama in the making, right?
Wrong. While this drama wasn't bad, it was also adamantly stale and I don't care how many puns there are about Eun-bi's name, or how many hot ramyun shop guys there are, I'm incredibly sick of the spoiled rich kid who doesn't understand what love is, and we as watchers have to watch them do the motions to finally figure it out. Are you kidding me? Yes, I watch romantic comedies for the cute factor and to see an awesome girl leave an impact on the dense dude who doesn't know better, but two rich kids in one year who don't know what love is and what those feelings in their hearts are? Seriously, are ya kidding me?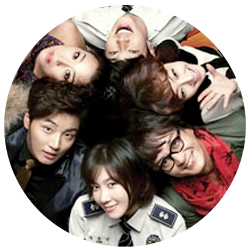 ME TOO, FLOWER
Ah, a drama that I was completely confused about and had no intention of even watching, turned out to be better than I thought it would be. I said I would drop the drama, but a case of the drama addict got the better of me and I persisted to the end. There was a lot of unnecessary headache, heartache, hand-wringing, hair-pulling towards the 3/4th mark but all in all I think this drama was definitely one that exceeded all my expectations and turned out to be one of the more surprising gems.
There were a bunch of factors that really killed Me Too: the previews for this drama were confusing, Lee Ji-ah is not the most popular person in K-pop right now, Kim Jae-won pulling out last minute. Add onto that is the fact that ratings for Me Too were borderline horrific, no thanks to the thunderous Tree With Deep Roots as its competitor, so I can see why this drama has gone pretty much neglected.
It's unfortunate because there are a bunch of interesting and quirky characters in this story, and plenty of good acting to go around at that. There is a lot of chemistry between the leads, and a lot of quick and witty dialogue. The story subject is heavy and one that I wish more Korean dramas tackled, but because this drama is pretty much in the drama equivalent of a rock and a hard place, it has barely been a blip on people's radars. It's sad to see that the writer who penned this, the same writer for My Name is Kim Sam-soon, will clearly not be getting accolades for Me Too, Flower.
– – – – – – – –
Other dramas that I watched and finished
– Tatta Hitotsu no Koi
– Natsu no Koi wa Nijiiro ni Kagayaku
– Boss 1, Boss 2
– Nagareboshi
– Zenkai Girl
Dramas I checked into, and then checked out of
– Romance Town
– Man of Honor
– Miss Ripley
– Can You Hear My Heart?
– Paradise Ranch
– Midas
– Mr. Brain
– You've Fallen For Me
Dramas I've yet to finish
– The Princess' Man
– Soredemo, Ikite Yuku
Stuff I'm still watching, 'cause they're still airing
– The Good Wife
– Community
– Up All Night
– Suits
– – – – – – – –
And that's my year of TV. Hope yours was just as awesome and left you with as much to think about as it did for me :)