Go Ryeowook! Go Ryeowook! Dance like it's yo birfday!
We're gonna party like it's yo birfday!
I CANNOT BELIEVE THIS PERFORMANCE.
That dancer planted her crotch on his face!
He did a strip tease!
HE'S MOVING LIKE JAGGER.
To be completely frank, I watched 90% of the performance like this: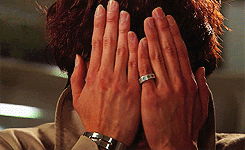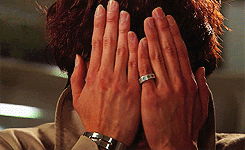 But in all seriousness, this is one of the reasons why I really like Ryeowook, who probably doesn't get enough love from fans and non-fans alike.
I think all of Super Junior's solo performances from all their Super Shows have all been relatively safe for their skills and capabilities as artists. My favorite to listen to are usually Donghae's because the boy's an amazing composer, but performance-wise, they're not that different than what he usually does as a member of Super Junior. Expect some ballads from Kyuhyun and from Yehsung. Zzzzz. Some dancing from Shindong. Some fake rapping and some dancing from Eunhyuk. Zzzz.
What I'm getting at is that everyone plays to their strengths and I think a stage as large as a concert is a good place to experiment a little more. You've got a huge audience that will love you and cheer for you regardless of what you do, so why not do something you can't normally do?
This is why I really like Ryeowook, because his solo performances from the last two Super Shows were GREAT, y'all. He did Insomnia last year and that was really boring visually, but it was unexpected of Ryeowook, I think. And then he went even MORE unexpected this year with "Moves Like Jagger," which I almost have to give him kudos for covering because it's so current and he packaged everything so nicely. The choreo was great, the visuals were great and he went OUT THERE with the sex, y'all. Who knew he had it in him? I'm not sure he's gonna convince me of his sexual prowess or even sexual attraction, but at least he really put on a performance.
And I just really like Ryeowook as a performer. He's an awful dancer (awful!) — so campy and stiff — but he really tries, and he's gotten much better over the last year (strip teasing may or may not help). I like him mainly because he's a robot and there's at least one robot in every SM group — they're not naturally good at singing/dancing, but their precision and consistency is gold in the fickle, fickle world of K-pop performances. Ryeowook's also just a really good singer. Don't think anyone can argue with me on that.
And now I'm going to rewatch "Moves Like Jagger."