Simplifying and decluttering #1: The wallet
If there are two things I must absolutely get for the summer, it's a wallet and a pair of durable and comfortable flats*.
I've had many a wallet in the past 5 years, and while I outgrew some, the others were Bad Purchases. If there's one piece of advice I have to give about simplifying, decluttering, buying less and buying better, it's this:
Do not — and I mean it, do not — think that buying something cheaper or buying something to "tide you over" is a good idea. Whatever you're planning on putting down hard-earned money to buy, be it a pair of shoes or some fancy technology, once you make it a goal, stick to it, work towards it, and don't let other items distract you along the way.
I haven't really needed a grown-up wallet til now, and saw no need to "invest in a classic" when I was younger, because who wants to start investing in things that will last a lifetime when you're only a teen?
But now that I do actually see a need to find an appropriate wallet, I've made the decision to buy something that will last me a long time. I have been on the search for the perfect wallet for a long, long time and during the course of finding the right one, I've wasted a lot more money than I intended to and this is one of the ultimate reasons why people overspend and are never satisfied with their purchases.
If you have your eye on something that's insanely affordable, excellent. More power to you. But if what you want is a little more expensive and might take some saving up, don't get distracted during your process. You won't ultimately be satisfied with what you purchase if you buy something that is just as good as you want. Buy something that is exactly what you want. Don't get something that's kinda, sorta, maybe like the ones you want, because you won't end up loving them, and you'll still be left wanting what you originally wanted. By then, you've already wasted money on something you don't really love, and have set yourself back from getting what you really want.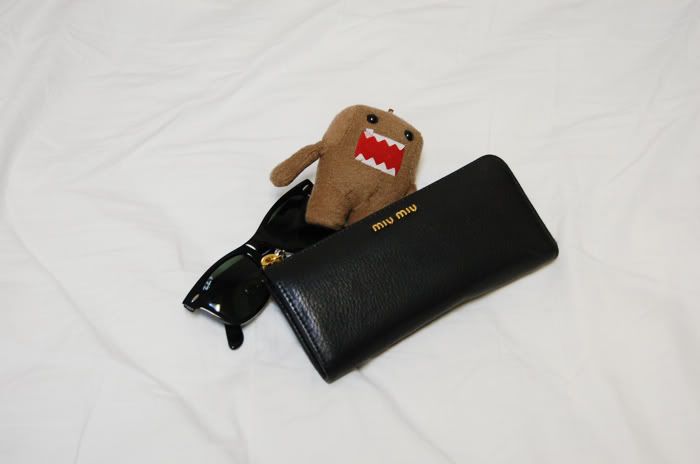 During my search for a wallet, I bought 3 other different wallets, each being not exactly what I wanted. The urge to buy on impulse makes it feel like what you're about to buy is what you want, but when you see something and you don't instantly connect with it, then it's not what you really want. If you have more disposable income to throw around, then there is no harm in buying more than you need. But if you don't have that luxury, then stick to what you need.
So when I made the decision that I had made Bad Purchases in my quest for a Good Purchase, I got rid of all the wallets I didn't really love, or couldn't fit into my lifestyle. I sold all of them and used that money to finance a wallet I actually loved.
And I really, really, really love my new Miu Miu wallet. I've had a list of names I wanted to check out the wallets from and narrowed it down to either a Comme de Garcons one or a Miu Miu one. I went into stores that stocked these two brands and pretty much fell head over heels in love with this one from Miu Miu. The leather is INSANE, the size/shape is exactly what I needed, and it fits well in my hands.
There is no doubt that I did lose some money in the process of reselling my three other wallets, but this is a lesson on why impulse purchases are wasteful, and why they almost always result in dissatisfaction.
This was a Good Purchase :)
* Seriously, if I don't get these soon, I will punch a baby.