Formspring.me #5, impressive lives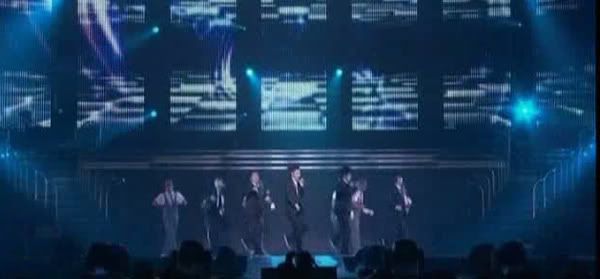 To show you that I am a delightfully delinquent blogger, I will humor you by answering a formspring question that someone asked me a year ago (I started this post in July, 2010). He/she asked,
Most impressive live performances?
Kicking off with you-know-who:
DBSK's "Five in the Black" concert
All in all I think DBSK's greatest achievement as a group was their success in Japan, and their Japanese concerts are nice markers in the different points of their careers. FITB was the tip of the scale: when they finally succeeded on some measurable standard that they and their companies had delineated for them, but not so successful that they could stop striving. They were good enough to be recognized, but they still had something to prove. There is something raw about FITB that I don't think can be found in any of DBSK's other concerts. I'm also biased because I really like how they were dressed and mmmm suits :3
BoA performing "Bad Drive" during her 2008 "THE FACE" tour
I think it's a damn shame that "Bad Drive" was a B-side single instead of A-side, because this is hands down the most impressive performance I've ever watched. The choreography is IN-FUCKING-SANE and it's so amazing to watch, and it brings the word "impressive" to a whole other level. Unfortunately it's also one of the rare times BoA lipsynchs during a Japanese concert, but it really doesn't take away from how well-executed everything about this performance is.
G-Dragon performing "Gossip Man" on SBS' 2009 Gayo Daejun
This performance cemented by respect for G-Dragon. I'm iffy with him trying so hard sometimes, but the rest of the time I just think GD is brilliant. There is no way anybody less than brilliant can rock a monstrous stage alone, with that ass hair, checker board cropped pants, and fucking ugly creepers, and still rap the hell out of a great song. This performance shows me that while G-dragon's theatrics are just theatrics, he is an undeniably impressive performer.
BoA performing "Lose Your Mind"
This is probably my favorite Japanese song of BoA's. It's a shame that this song barely made a blip on charts, but here is one of the rare full non-concert performances of this song at some event from three summers ago. Watch another performance of that song here, from her Youtube concert in Japan that kicked off her American debut.
DBSK performing "Bolero" at Ontama Carnival
I think the Ontama Carnival is one of the last large-scale performances DBSK did as a group and I remember all the songs from this festival fondly because everyone was insanely perfect and impressive during all the songs (Mirotic, Bolero, Doushite) and there's just the sentimental value of them performing as 5 for one of the last times ever. I kinda hate this song because it's so long and takes forever to get to its climax, but the climax was just amazingly well-done.
DBSK performing "Survivor" on Music Station
Sorry for the shady video link–Asahi has an iron-tight grip on anything of theirs' that goes on Youtube. Back to the perf: "Survivor" is totally ridiculous–some might even call it campy…–but they totally killed the performance. Except for Yunho going flat for one teeny millisecond, everyone was great. Is Junsu's first note beautiful or what?
Imogen Heap performing "Just for Now" at 103.1 FM's live studio
This song makes me ache. I really enjoy Imogen's performance style and she has a beautiful voice. Listening to this song is just one of those moments where I think, "Music is man's greatest gift." :)