Kdramaland is a small, small place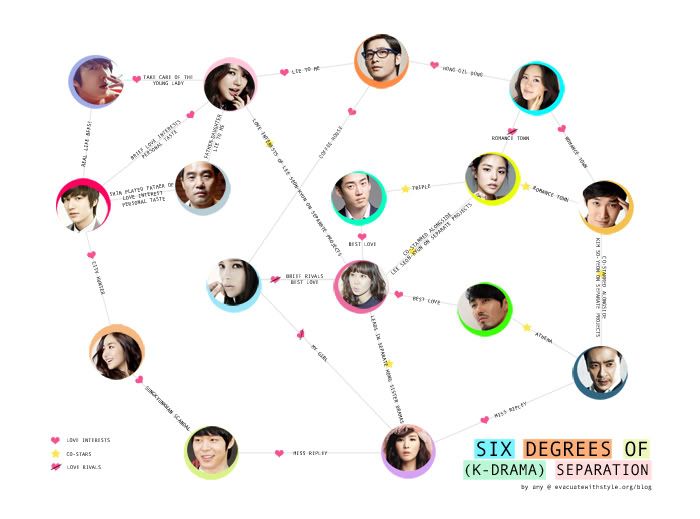 (click for full-size; best viewed at 100%)
This is a chart of how super interconnected Korea is. It shows how actors in the currently airing May dramas are connected to other actors in currently airing dramas.
The first seeds of this were laid down when I randomly thought to myself, "Kang Ji-hwan is in a new drama. Sung Yu-ri is in a new drama. They did a drama together before!" The Korean industry is tightly-knit, so I knew there were more connections in the May dramas than I bothered to figure out, but it wasn't until I actually charted the relationships down did I realize that everybody in each of the May dramas is connected to someone else in another May drama in some way, big or small.
The numbers are telling of how tiny the industry is: in a single chart of 16 actors, 5 of them are/were leads of Hong Sister dramas–3 female, 2 male. Everyone has at least one direct connection to someone else on the chart. Other fun things I noticed, after the jump.
– Gong Hyo-jin has the biggest number of connects: Aside from those in her current drama, she has professional connections to one person in almost all currently airing primetime dramas, directly or indirectly.
– Kang Ji-hwan is the only male lead on the chart who has been the love interest of someone in almost every May drama. Get it, boy!
– Lee Seon-kyun is the only actor who isn't on the cast of a currently airing drama to have multiple professional connects with actors who are in current dramas.
I'm sure this isn't a complete collection of connections, and I didn't list all redundant relationships (ie, Lee Da-hae and Sung Yu-ri have both been leads in Hong Sister dramas).
I'm sure everyone personally knows everyone else, but it was surprising how many people actually worked with other people already. And seriously, what the hell is this coincidence that all five dramas had so much in common?
Whee, this was fun, hope you enjoyed :)