Looking ahead: May K-drama premieres
May is going to be a jam-packed month, which is perfect because school is going to be out (FOREVER.) and every day of the week will air an episode of something that I will probably be interested in. Best!
THE GREATEST LOVE
This is probably the most fantastically cast Hong Sister drama to date. Their dramas always have great leads and then the secondary cast of characters is always terrible, which really drags down the momentum of the storytelling, especially when things get crucial in the second part of the story. The Hong Sister's track record with writing great secondary characters is also nothing to write home about, but my wishful thinking is that even if they are somewhat weak, strong actors (Yoon Kye-sang and Yoo In-na) will give more life to the roles.
Another thing is that I really hope that the lead female role (played by Gong Hyo-jin) will not be a super spazz. I have a huge gripe against the Hong Sister's female leads in that they are always klutzes, always dim, always relying more on their aegyo charm than any real substance. I know it's not really in the Hong Sister's agendas to ever be really weighty and grounded, but their male leads are always better written with more relatable and realistic qualities. Once again, I hope that Gong's excellence will somehow make her character better than what I anticipate her to be, because you know that she's just one of those actresses who have that capability.
Also, there's something so fantastically weird about Cha Seung-won playing a goofy well-loved star in a comedy right after he kicked the shit out of everyone's asses on Athena. There's going to be some serious mindfuck 'round these parts when this drama premieres.
ROMANCE TOWN
Not even going to lie, this drama is going to be totally horrible, and I'm going to totally love it. You know what's going to happen, but who the hell cares, just sit back and enjoy the (eye) candy, right? I have a huge soft-spot for Jung Kyeo-won because I think that he can totally do the comedic chaebol role (if that's what they're going for in this), and that's much more fun than if this were some meaty, dramatic role. Jung is good with the lighthearted (see: Dr. Champ) and it does not hurt one bit that he is so damn good-looking.
And I used to have a soft-spot for Sung Yu-ri too, but that's changed over time just as I realized how terrible of an actress she really is. Fortunately, she's a lot better with "bright and cheerful" roles than she is with anything heavier than that, so I'm sure she'll do fine and her lack of acting ability won't bother me too much in this.
Oh, and I really like Min Hyo-rin (watch her in Triple!) so this shapes up to be much more interesting than if the secondary leads were played by boring actors.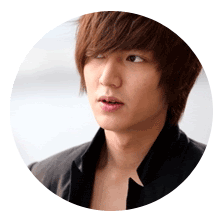 CITY HUNTER
Of the four May dramas that I'm going to keep an eye on, City Hunter was probably the one I was most excited about initially. Initially meaning, when they cast Lee Min-ho. And then they cast Park Min-young and I exploded into a pile of bleh and stopped caring. When the hell is Lee going to be cast opposite someone I actually like and care about? He can even team up with people he's already teamed up with before: Park Bo-young! Moon Chae-won!
I have to say, since Lee Min-ho has led in a drama, he hasn't had great chemistry with anyone. Son Yeh-jin is a great actress but her chemistry with Lee wasn't consistent in Personal Taste (and the story sucked), so that was a disappointing pairing. Gu Hye-sun was a weird case because she is normally pretty great (even in Strongest Chil-woo) but I felt that the combination of her character and the ridiculous story in Boys made the pairing unsatisfactory as well. And then Park Min-young in City Hunter. I've already express my grievances on her already, so I won't further rehash, but gah she is just not a good actress and ruins things for me. :\
LIE TO ME
I really like Kang Ji-hwan, but I'm not sure how his character is supposed to be. From the stills I've seen he looks kinda stuffy, like he takes himself way too seriously. But since this is a rom-com affair, I'm sure he'll bust out some comedic chops; I'm just not too thrilled about Kang playing a chaebol. He just doesn't fit that image. And I'm not a Yoon Eun-hye fan, but I'm sure she'll do better than she did in "Take Care of My Lady," which was actually atrocious. She can only go up from there, lol.
This is one drama that I'm definitely going to check out the first couple of episodes of, and then drop/keep accordingly. I like Kang but I definitely am not loyal because I've found that he can vary according to role. I loved him in Hong Gil Dong, liked him less in Coffee House, straight-up disliked him in Rough Cut, so…we'll see what kind of guy he plays in this drama. If he taps into his naturally hilarious self, then we'll talk. If he goes for the Hyun Bin Kim Joo-won-esque guy with the intensity and the hurt and blah blah blah, then I'm out.
RIPLEY
OH KIM SEUNG-WOO, MY AHJUSSHI CRUSH <3 Ahem. I actually am not super interested in this story because it seems destined that with a female character like this, things cannot end well. Despite that, I think this drama has a great cast (minus Yoochun, and no I won't get over it) and I haven't seen Kang Hye-jung act in a drama ever that I'm super excited to see her in this. Kang always plays the off-kilter characters so much that I'm intrigued to see how her character will be in Ripley.
The only thing I'm still confused about is what lead Yoochun plays. I'm 100% fine with him being the secondary lead because him being a lead lead would feel like a teeny tiny insult to Kim Seung-woo, bias aside. But the drama gods never give me what I want, so I might have to settle with Kim not getting the girl (which is totally preposterous, he can divorce Kim Nam-joo anytime and come to me!).
There you have it, my five anticipated dramas of May. What are you guys looking forward to watching?