(500) Days of Summer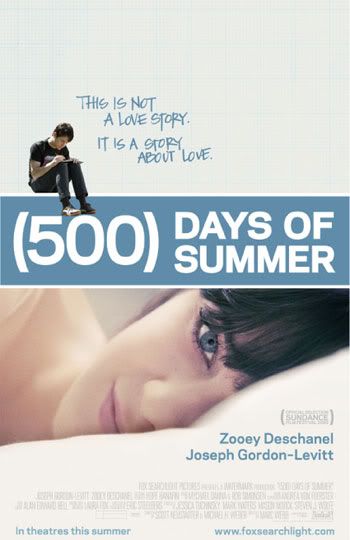 Audio clip: Adobe Flash Player (version 9 or above) is required to play this audio clip. Download the latest version here. You also need to have JavaScript enabled in your browser.
"This is not a love story. It is a story about love."
I don't like stories where there's over-emphasis on That One Beautiful Girl Who Got Away, or just on any one individual in a couple that is so beautiful, so perfect, so heart-breakingly amazing that the de-coupling of the pair would be the most tragic thing to shake up this cosmic universe. Unfortunately, this movie is about that, but fortunately, the people working with the story gave audiences a way to resolve that sort of dilemma.
I didn't love this movie but I did find it nicely realistic. There are a whole bunch of things that really bugged me — how hipsterly ironic the humor is, Zooey Deschanel, and the soundtrack that tried too hard — but I did love the editing of the film, the aesthetics in general, and Joseph Gordon-Levitt.
I didn't really believe in the love that existed between JGL and ZD's characters, but I believed in Joseph Gordon-Levitt's acting. He's so genuine it just feels like there's no way JGL isn't Tom, who he plays in the movie. Zooey Deschanel on the other hand, I will never, ever, ever EVER understand the hype that surrounds her. I had no problem with her character and I understand her completely, it's just . . . Zooey is really bland. She surprisingly has an amazing voice but that's about it. I don't think she can act, and she's not very good at anything else either . . . So I think her role in the movie was to fulfill the beautiful blue-eyed, dark haired female who owns many summer dresses and cute straw bags and really knows how to look pretty. Sorry duds, got no words of praise for Zooey, am not really a fan.
I don't want to give any of the movie away but I like how the story adhered to the tagline: "This is not a love story. It is a story about love." It's appropriate and it's reassuring to read after knowing how the movie ends. There aren't too many Hollywood stories about what happens if love isn't enough and I think this movie is a good example of something working on the other spectrum of the romance genre.
Ending the post with some pictures from the 500 Days premiere + after party. Pretty people are pretty!