This post is the product of super human energy used to combat procrastination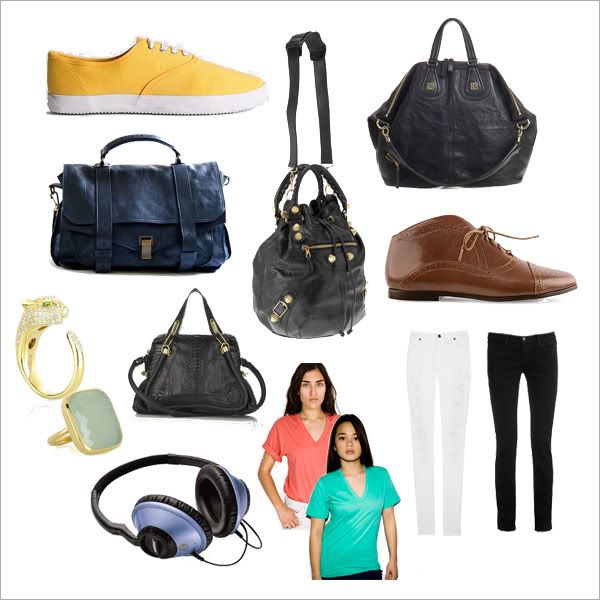 Clockwise, from top-left:
A bright taxi-yellow canvas sneaker
Balenciaga drop bag
Givenchy Nightingale bag
THE PERFECTLY SHAPED OXFORD SHOE. (Why is it out of my size? :()
Black and white fitted jeans. The white ones don't matter so much because summer isn't sticking around for long anyway, but black jeans are a must.
Bright colored v-neck tees. I've been obsessed with v-necks lately.
Bose headphones!
Chloe Paraty bag
Statement rings. I really like rings and I like wearing a lot of rings, so I'm currently in a collecting phase.
Proenza Schouler PS1 bag. I'm around these bags ALL DAY and they kind of rock.
– – – – – – – – – – – – – – – – – – – – – – – – – – – – – – – – – – – – – – –
The great number of things I did in the process of putting together this post (which took no less than 2 days):
Start watching Pixar's Cars 
Look up on Wikipedia what the Proust questionnaire is
Update Seoulbeats
Clean my room
Take two showers
Took a nap
Have breakfast, lunch, and dinner
Upgrade my dinky version of WordPress to 2.8 (2.8 sucks, ugh)
Look through 20 pages of blog themes for revamp
Organize my iTunes library
Look through Barneys, Saks Fifth Avenue, Bergdorf Goodman, Yoox online sites
Replaced the battery on my cellphone
I'm sure I did more. But my memory is failing me at the moment.
Anyway, my bday is comin' up and my mom was actually like, "So what would you like?" My mom never asks me that question. And I never ask for a present soo I'm jumping on it, hence point #11 on the above list. But let me tell you, there is some serious ugly out there. Some seriously pricey ugly. Designers shouldn't try to get away with ugly shit just because they can. And people who buy ugly shit just because the brand name is X, Y, or Z are just as douchey as those designers!