J-o-u-r-n-a-l-i-s-m
Just received the spankin' tweet from NYTimes' twitter (thankyouverymuch) about this article, J-Schools play Catchup. It's an interesting topic on the new battle in journalism: print versus new media. It's a topic that we're constantly talking about in classes, and as a person who blogs more than enough, I think all journalism students really do have to be familiar with stuff like blogging, YouTube, participatory culture, and just all new forms of mass communications.
Whiiiich is in direct contrast to this, which I watched last night: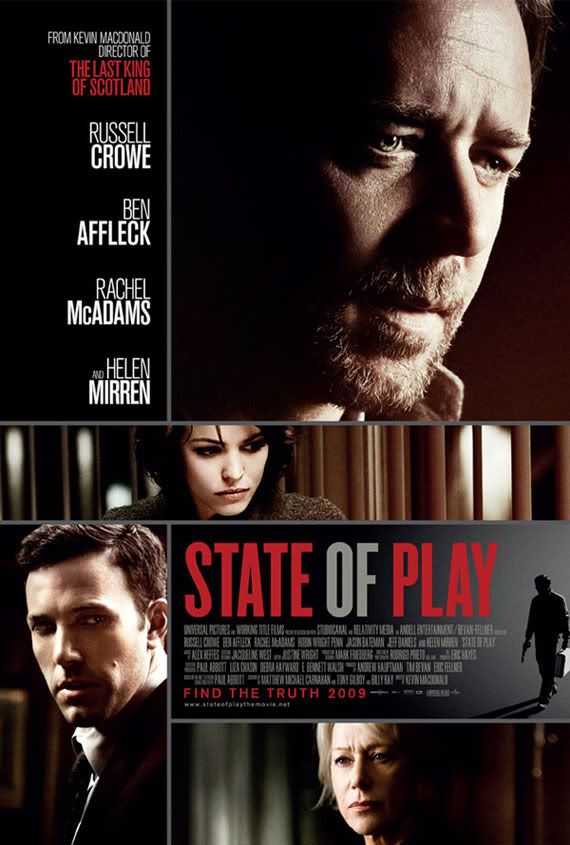 State of Play is a political thriller about two journalists' trek to help unravel a political scandal. "The Washington Globe" is the paper they work for, and Russell Crowe and Rachel McAdams play reporters Cal McAffrey and Della Frye. Ben Affleck plays Congressman Stephen Collins.
I can't say I've seen a lot of political thrillers, but this was a good watch for a lazy Saturday night. The way they took this story and ran with it was interesting to me as a viewer, but the story itself wasn't super original. At the core of it, I saw this movie more as a promo for traditional journalism than a movie about the action and intrigue. The political thrilling wasn't bad, but a lot of key motifs were kind of advertising for the Good Days of Dogged Journalist Seeking Truth.
Helen Mirren plays the editor of "The Washington Globe" and she represents the fast-paced business world that journalism ultimately resides in — the WG has just been bought by a digital media group and as a result of having to satisfy superiors, she pushes for paper sales over truth seeking; the paper in a way is legitimized by how many people read it, and how fast their paper gets to the dirt first is priority — not whether or not they do political justice with their reporting.
Russell Crowe's Cal McAffrey represents the traditional journalist — somebody who prefers reporting the old fashioned way. He works at a multi-decade old computer, tapping out stories like they did way back when, and he makes a dry joke about blogging. No spoilers, but at the end of the story, his point is that it is still his job and duty as journalist to get the word out there, and that it's comforting to know that people still read the paper for the news. Of course, that dialogue was in context of what was going on with the rest of the political wazeehoozits, but ultimately it felt like a chest-thump tribute to print journalism.
The movie just re-confirmed to me that I'd be a terrible investigative reporter, but I had my own chest-thump moment as a fellow rookie journalism student.