Music from 2008
The majority of 2008's new music has come off as kind of dead and dull to me. Not a whole lot of good new stuff from the artists I keep up with / artists I randomly keep up with. But, I did inadvertently open myself up to a much larger ground in the music terrain. I discovered some old music that I happened to really fall in love with. Okay, so saying that I fell "in love" with the music puts a lot of stress on the poor songs, but I just meant that it was refreshing to listen to and made some kind of impact on me, sentimentally-speaking.
Favorite albums of the year,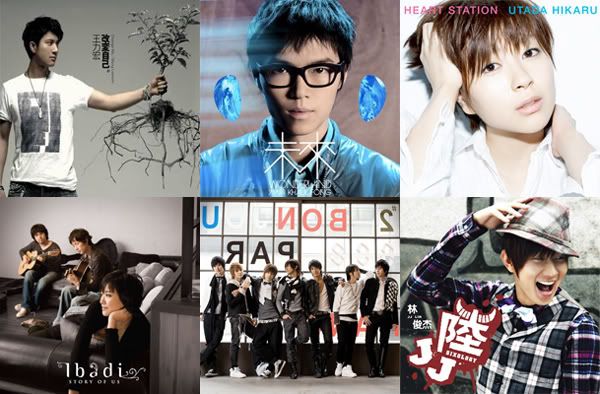 Favorite songs of the year,
王力宏 – 你是我心内的一首歌

If I had to narrow this list down to only three songs, this song would come first. The music of this song isn't very challenging or groundbreaking, but it evokes some sort of familiarity for me. Of course, Leehom was going for that note of sentimentality with the song. (It's very Shanghai-tan-esque, no?) The song reminds me of spring and spring is a good time of the year.
方大同 – Love Song In orderly fashion, this song would come second. I love this song for its melody and for its lyrics. The lyrics are a "fuck you" to what Khalil perceives to be the typical love song. Khalil's a very articulate guy and you can tell from his lyrics that he thinks a lot about life and music, which is the kind of thing you want in an artist. He makes his peers seem silly. If I had to recommend one artist from the Chinese pop scene (which encompasses a lot of ground), I'd recommend this guy, and this song. Listen to the song here.
동방신기 – Purple Line This seems like an eon ago, but I really did love this song and all the hype around it. This was the first dance hit that I anticipated the release of after I became a fan of the group, and compared to their previous dance hits — The Way U Are, Tri-Angle, Rising Sun, O-Jung.Ban.Hap — this one wasn't shabby. It's got GREAT use of bass and it feels very strong and relentless. Purple Line is the sort of song that I feel makes a statement and leads somewhere. Minus the most embarrassing use of an English line in all the history of non-English songs, this is the one song I would recommend for the ballad haters and the DBSK doubters. F'real.
张力尹 – One More Try I can probably sing this song in my sleep. Of all the music fandoms I dabble in, this song is the only thing that inspired me to actually contribute to fandom in non-graphical ways, in the form of lyric translations…which is not a lot at all, but my translation of this song coincided with my official decision to major in East Asian Studies, so it means a lot to me. This is also the best song off Zhang Li Yin's resume and a very inspiration song that symbolizes the return of a girl who I'm really rooting for.
Ibadi – 오후가 흐르는 숲 Song three of the "if I had to narrow this list down to three songs" train of thought. This song is mind-bogglingly beautiful. The entire song just evokes such a sense of tranquility and peace that I will never be able to properly articulate it for you to feel, unless you were me.
Super Junior M – 我抱着我 Such a shame that any really GOOD song from SuJu is one that involves about 1% of the total number of members. The first time I heard this song, the moment the guitar first strums in the beginning, I knew it plopped itself somewhere in my brain and would stay there for a while. Purely from the way this song sounds, it's a darker ballad, but isn't one filled with anguish — just how I like my ballads. Kyuhyun really makes this song for me; Kyuhyun makes singing well sound so easy and I have nothing but love for this song. I enjoy ballads that have great vocals — with singers who don't sing like they're singing every note like they're wringing the life out of it.
Super Junior M – 至少還有你 I know I listened to this song when I was younger and just by virtue of it being a cover of a Chinese classic, this song lingers in my mind even if I don't love the original. The chorus where all the guys harmonize sounds so full that sometimes it makes me feel like hugging the song.
Taeyang – 죄인 Summer of 08 is defined by this song and the next. 죄인 is such a seductive song. There's a very gradual push-and-pull in the melody and it really draws you in. Taeyang's voice is made for songs like this. Whenever this song plays, it just invokes in me the feeling of really lazy, sleepy days of summer. This is a song with a rhythm that seems to mimic how the heart beats and this song is the reason that I want Taeyang to stay solo.
SHINee – 누난 너무 예뻐 (Replay) Ah. This may be the catchiest song of '08. It definitely was the biggest surprise of 08 for me because I've come to learn that while I'm a loyal SM Entertainment fan, none of their music truly feels fresh — that is, until SHINee came along and until this song and their mini-album also came with them. The vocals and the attractiveness of the beats belie the naive and innocent meaning of the lyrics. As a person who used to listen to only English songs and then transitioned to barely listening to anything English, I can say that this song is one of those that can be universally liked by pop lovers, regardless of language.
東方神起 – どうして君を好きになってしまったんだろう? I've never been a lover of DBSK ballads only because they irritate me so after about half the song's length. SM ballads are a sore spot for me because they're a reflection of SM's huge dependency on good vocals and lack of innovation for good music. But this song really took me by surprise because while there is still a lot of ballad-y emoting from our fave five gods, it's a challenging song to sing. Everything about this song is kind of pansy-ish — the cover, the title of the song, them all being dressed in white — but somehow, it feels like a step towards being braver with experimenting on ballad grounds.