Khalil & Lee Hom, follow-up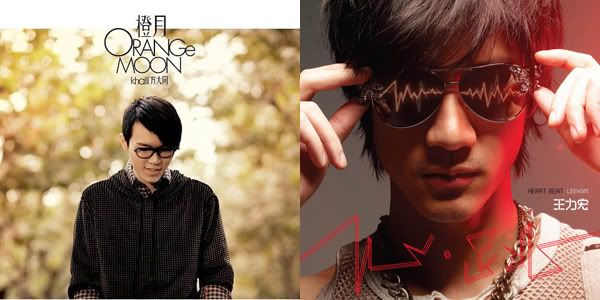 Two artists that I've come to love a lot in the past year have recently come out with new albums — both albums came as surprises to me because I had no idea they were coming out with new ones so fast. These reviews are after about two full listens of the albums, and initial impressions may change after more listens :P
First is the album from Khalil Fong.
Orange Moon upon first listen seems to be less inspired than his previous Wonderland. I think I judge an album harshly based on the first track on the tracklist. If an album starts off really strongly, I have an immediate good impression of the overall album; if not, it takes me a while to appreciate the album as a whole. Orange Moon starts off with "Singalongsong," which is a sequel to "Love Song," from his Wonderland album. Singalongsong is very cute but it's not as dynamic as Love Song. There's nothing that grips me from the very start of the song, which is something very noticeably present in Love Song. After that, only when the fourth song of the album — "黑白" — started playing did I finally think to myself, "Ah, this is the Khalil I love." It's got a great use of instrumentals and the chorus has a lovely lull to it. And unfortunately, that's about it for this album. The rest of the album is a blur of melodies to me and nothing really stands out, whether it be bad or good. It will probably take me a few more listens to the album for me to more fully appreciate some of the songs, but for now, I can safely say that I loved "Wonderland" a lot more. But Khalil's one of those artists who are so talented and actually aware of music that it's hard to dislike any of their work. Hopefully, there are more great things to come!
Second, Leehom.
There's no song that really stands out to me in this album. The album as a whole is very comfortable and typical of Leehom. "春雨里洗過的太陽" is the "我们的歌" of this album — sunshine, guitars, soothing melody, comfort. "What's Up Rock" is an experiment gone wrong. "我完全沒有任何理由理你" has the title to kill: it means "I have absolutely no reason to care about you" and it is a terrible song. "心跳" is a typical ballad from Leehom. The only two songs that piqued my interest were "愛得得體" and "競爭對手". The former has an interesting melody and is something you can bob your head to. The latter is slightly Alicia Keys-esque, but I like ballads that are somber with very assertive and enunciated beats.

What I have learned from this album is that vocally, Leehom should not go for songs that require him to use his falsetto. My ears, dear lord. His voice is best suited for songs like "你是我心内的一首歌" where he gets to sing in his safe zone.

Overall, this album did not have that one defining song that drew me in like his previous three albums. Even if the rest of the albums sort of trotted along without much fuss, there was always at least one song that I really connected to and evoked some kind of emotion from me. Sadly, Heartbeat did not have this song and the album came off as very mediocre.

One last thing — Leehom, if you're gonna try to be a badass on your cover, don't wear shades that are framed with butterflies. New stylist, stat.