Boys Before Flowers, episode 4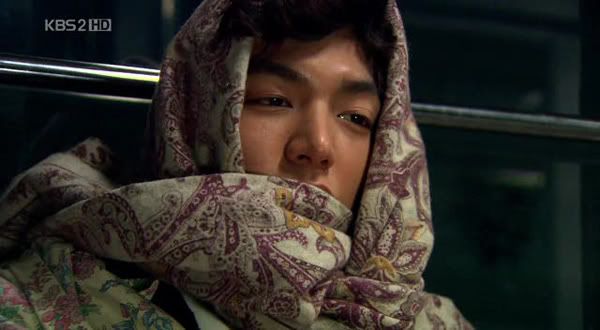 All my episode-defining preview images for this show seems to be of Gu Jun Pyo/Lee Minho . . .
Recap of episode 4 and a bit of a rant on the alpha-maleness of Jun Pyo, and of male protags in K-dramas.
Recap of episode 4

The day that the crew are at the airport to see Seo Hyun off, Jandi asks Jun Pyo a question, "If you really like a person and you have to bury your feelings in order to help them . . . that's the right thing to do, right?" Jun Pyo scoffs at her and tells her that she's wrong. His motto has always been that it's better to do something and then regret it than to do nothing at all and regret that.
Seo Hyun bids 3/4th of F4 and Jandi farewell, Galadriel-style. When she turns to leave, the four wonder where Ji Hoo was and why he didn't come to see Seo Hyun off. At that moment, Ji Hoo arrives and it turns out that he arrived at the airport three hours ago. Why? Because he's going to be taking the next plane out to France (to be with Seo Hyun, doy). And who taught him to be so brave and non-wussy all of a sudden? Why, Geum Jandi, of course.


After a very non-emotional farewell, Jandi and Jun Pyo wait by his sweet, sweet ride out in the middle of the . . . airport field. Jun Pyo has a look on his face and then as if he's made a decision about something, he stands over Jandi and tells her to listen, and to listen carefully. "Geum Jandi. You and I, [airport whizzes by]." LOL. He mouths, "We should date," but of course, Jandi doesn't hear over the airplane noise, and doesn't tell him to repeat. Jun Pyo looks really pleased with his actions, however. As always.
The next day, Jun Pyo goes to the cafeteria and tells Jandi, "Saturday. 4 o'clock, in front of Namsan Tower. If you're a minute late, you're dead!"
However, the next day, Jandi goes with her mom for some bargain shopping and seems to have forgotten about the arrangement until they're done. It's snowing and Jandi tries to convince herself that no way, Jun Pyo wouldn't still be waiting . . . could he? Only crazy people do that. Oh wait, Jun Pyo is not exactly what you call normal though . . .
Jandi rushes over to Namsan Tower and yes, Jun Pyo is still there, waiting in the snow. She asks him what he's still doing there and they bicker about whose fault it is that he's still waiting. Jandi then offers to get him something warm and they go on up the tower.

While they bicker up on the tower — do they do anything else? — an ahjusshi locks up for the night without knowing there are still visitors. So they are locked in and have to find somewhere to spend the night. Turns out Jun Pyo's sick and has a high fever. Jandi takes some of the blankets she bought on the shopping spree with her mom and covers Jun Pyo up with them. (The next scene is a bit odd to me because when Jun Pyo wakes up in the middle of the night, the first thing he does is not get up and sit wondering what was happening, but he bends over to pick up a pen that has fallen — a pen that he shouldn't have spotted that quickly and a pen he doesn't know was supposed to be used against him. So yeah, shoddy story-telling. If this point is supposed to be important later on — just like the bee scene earlier in episode 2 turned out to be a plot device — at this time, we don't know yet.)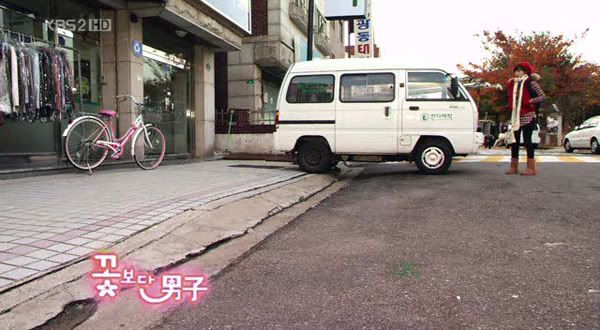 The day after, Jandi worries about how she's going to explain to her mother where she spent the night. I love the next scene because when she's in front of her dad's dry cleaning place, she does some light jumps, bounces around and preps herself to face ze parents. (I sympathize greatly.)
To Jandi's big surprise, before she has to go into detail about what she did the previous night, her family is happily praising her for saving Shinhwa Group's heir, Gu Jun Pyo. Jun Pyo, apparently, sent lots of brand name clothes as a thank you gift and Jandi's family is touched out of their minds and impressed with the chaebol.

At school the following morning, rumors are abuzz that Jandi is dating Jun Pyo. All the girls at school are suddenly very gracious towards Jandi. Naturally, Jandi is confused as hell and has no idea what's going on until she sees some photos of her and Jun Pyo from the other day. When F3 stroll in to see what's up, Jun Pyo tells everybody that yes, he and Jandi are going out. Jandi's first buddy at Shinhwa (Oh Min Ji) has a very terrified and shocked look on her face. Ruh-roh.
Jandi notices that Min Ji isn't at school and pays her a visit. Min Ji wants to make sure whether or not the rumors about Jandi and Jun Pyo are dating are true, and is relieved to be told that the are not.
Min Ji, livening up after hearing that the rumors are false, suggest that her and Jandi go somewhere to play. So they go to a club and Triple S embarrass the hell out of me with their song and their guest appearance. Here, Min Ji reveals her true nature when she gets into a tiny brawl with another girl, and proceeds to insult her appearance and whether or not she belongs at a "place like this."

Jandi, in her inexperience with clubbing, wanders around. When she settles down by . . . a wall, she leans against a guitar case and knocks it down, but reaches for it just in time. The owner of the guitar case tells her that it's not a valuable item and wonders why she exerted so much effort to keep it from falling. Naturally, the two go somewhere quiet: to the rooftop where the guy naturally busts out his guitar and his guitar skillz to woo the lady. Upon hearing the guitar, Jandi is reminded of Ji Hoo's violin playing and reminisces. She drinks from the guy's bottle of Perry and a few seconds later, she's passed out. (Never take drinks from strangers, 0-points-for-brains!)
The next morning, Jandi wakes up in a bed she doesn't recognize and reads from the mirror a message of, "Thanks for last night" and assumes the worst happened. She continues to convince herself that nothing has happened, but apparently the pictures have reached Shinhwa Daily's site and everybody is aghast at her actions. F3 then arrive as the crowd gathers around Jandi.
In a nice little moment as Jandi is blocking the revealing pictures, she also takes note that Jun Pyo is wearing his hair straight today and is wearing a school uniform.

I thought that the scene where Jun Pyo confronts Jandi about the pictures was the first time we're shown that Jandi doesn't completely think of Jun Pyo as a black hole of hate and revolt. Yes, she blocks the computer screen because the pictures of her are revealing and she is modest, but I think she also blocks the pictures because she doesn't want Jun Pyo to think she actually did what she's been photographed doing. They're not exactly bosom buddies at the mo, but they're both comfortable with each other, even if it's a very careful and tentative sort of comfortable.
Jun Pyo is upset at what he sees and asks her if she is indeed the woman in the pictures. There's no denying it, but Jandi insists that this is not what it seems. Besides, this doesn't concern him. Jun Pyo doesn't deny — she's right, it doesn't matter if he believes her or not, but from now on, he's not going to acknowledge her existence.
Yi Jung and Woo Bin try to help Jandi on her search for who was responsible for the pictures and they determined that there was indeed someone else in the room, because no self-respecting half-naked man with unconscious half-naked woman would take selca pictures with the victory sign. None at all. So there has to be someone else in the room. Besides, the message on the mirror was written with lipstick and Jandi doesn't carry lipstick. The boys do their thang — threaten some people, beat up some dudes, and arrive at an answer. If you've kept up with previous Hanadan stories, you'd know who the culprit is, but for now, the villain is not revealed.
During class, a hand-written note is passed around the room saying that there's going to be a nice little trick to be played on Jandi and that everybody should participate. Min Ji happens upon the note and looks a bit sick, so I guess she does have a conscious. She excuses herself and tells Jandi that she has something to do and leaves early.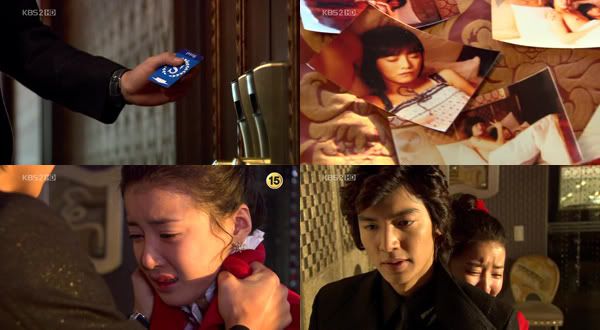 Meanwhile, back at the ranch, Jun Pyo goes to the hotel where Jandi was at the previous night and gets access to the room she stayed in. On the bed in the middle of the room are all the pictures that were taken of Jandi. As Jun Pyo leafs through the photos, Min Ji comes out and exclaims that he needs to wake up and stop being tormented like this by that stupid girl. She's crying and screaming and says that this isn't fair — him being so distressed by Jandi's apparent infidelity — but then Jun Pyo says, "But aren't you that girl's friend? As a friend, how can you say those things?"
This scene actually causes me a lot of distress because Jun Pyo is really rough with Min Ji and Min Ji is not doing anything to stop him; rather, she just continues to feel that it's unfair that Jandi could steal away her sunbae. The violence in the Japanese version of Hanadan was very comical and exaggerated, but Jun Pyo in this series is not at all comical with his grabbing and pushing.

Meanwhile, the Shinhwa students are really going at it with torturing Jandi. They trip her when she's on her bike, they burn the bike, they do everything imaginable. It's in these sort of scenes that I think Gu Hye Sun really shines because she's good at conveying a character who knows why she's on the receiving end of this kind of torment, and she also knows she can't stop it by herself. She chooses to not run away from it and sucks it up.
Annnnnd scene.
- – - – - – - – - – - – - – - – - – - – - – -
One thing I like about the version is that so far, Jandi has come to Jun Pyo's rescue much more than Jun Pyo has helped out a damsel in distress. She saved him by the pool and took care of him while he was sick. He, on the other hand, just gets irritated very easily when she's "snatched" away by Ji Hoo. But his reactions to these trivial happenings are matters more of alpha-maleness than being forlorn that he wasn't able to express his feelings to Jandi. Jun Pyo doesn't enjoy seeing that his red-carded target is being friendly with another male in his group, the only other male who he actually sees as a competitor in a romantic situation like this.
This sort of characterization bothers me but I think it comes with culture. I often find this sort of male behavior to be an annoyance in Korean dramas because it always manifests itself in the male thinking that a female is his, and only his. And of course, in the fight against a secondary male lead for the woman, possessiveness becomes a major point of argument — like "she's my woman."
We can see this from Jun Pyo's bad reaction to the video he watched of Jandi tending to Ji Hoo's cut. Jun Pyo has never prior to this established an actual relationship with Jandi, whether it be friendship or romance. He sees Jandi's caring for Ji Hoo to be massively inappropriate and thinks Jandi takes him for a fool. While one can analyze this from the standpoint that this is how the writers try to show that Jun Pyo has feelings for Jandi — enough to let her interaction with another man bother him — this doesn't really resolve Jandi's position in this. She has no reason not to care for Ji Hoo because he is her crush, and not only has Jun Pyo never expressed his feelings, he's only been antagonizing her thus far.
This is one of the things that bothers me about the Hanadan story, because the author of the series is not at all writing a strong-willed female protagonist and carrying her through this whole ordeal, she's only strong enough to attract the attention of a spoiled, rich boy who's never come across any sort of resentment from females. Once the initial friction is carried on for just "long enough," the lead resorts back to the typical male role and the originally strong-willed female has to abide by whatever mood swings the guy experiences.
And not only that, but there is also an irrefutable background to the Makino character that puts her in this difficult position, that is not subject to change no matter how resilient she may be. Jandi comes from a family with poor standing and she's only in Shinhwa school because of a merit that is subject to change. She might not care about what others think, but at the end of the day, when all members of the school population align with Jun Pyo and his mood swings, there is physically nothing she can do no matter how emotionally strong she is.