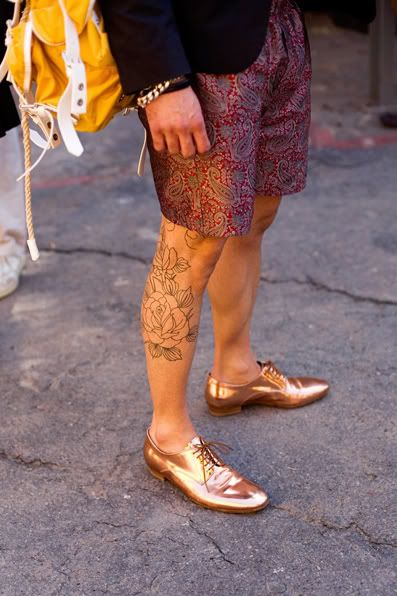 The Satorialist
I can't even see the top half of this outfit, but it doesn't matter, doesn't the bottom half kick ass? The shiny, copper tone oxfords are insane, the dark maroon paisley print shorts go SO well with the shoes, and that leg tat is just icing on the freaking cake. From what I can see, the person is also wearing a dark blue blazer, instantaneously winning my love, and he has the balls to go with a golden yellow canvas bag. It goes without saying that the colors in his outfit are amazing (as if you haven't noticed my drool).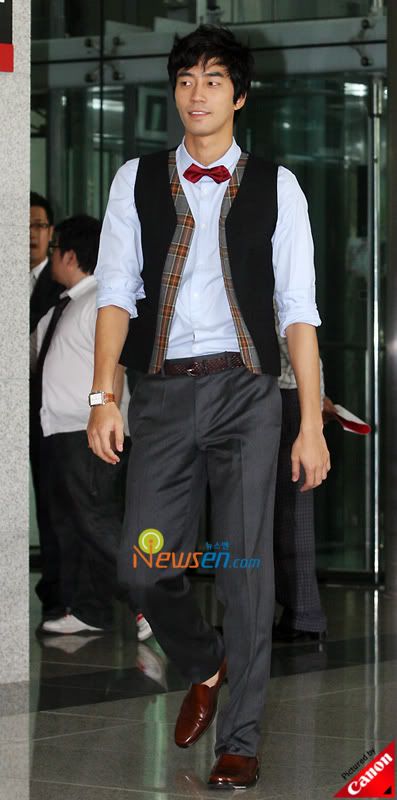 Shin Sung Rok at his drama's press conference
I loved Shin Sung Rok's character in Lovers of 6 Years and I have a soft spot for his outfit here for the drama press conference. He kind of looks like a paleontology professor but it's so adorable. I could've done without the bowtie, but I like the red contrast to the yellow-orange-brown palette. He's actually wearing a lot of brown in this outfit — the watch strap, the vest trimming, the shoes, the belt — but I'm loving brown lately so I totally dig. He also is tall enough to wear an outfit like this, so it's not boring so much as it's refreshingly crisp to look at.